Dr Aplin's new translation
23 June 2017
The Institute for Literary Translation in Moscow has announced that it will sponsor Dr Hugh Aplin's translation of a collection of 16 short stories by the Russian classic author Leonid Andreyev. Entitled The Abyss and Other Stories, the volume will be published by Alma in 2018.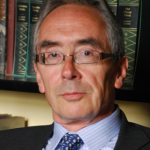 The stories for this volume have been selected by the group of scholars in both England and Russia who are currently engaged in the long overdue production of a multi-volume critical edition of Andreyev; six of the stories have never been translated into English before. Leonid Andreyev (1871-1919) was one of the best-selling and at the same time most controversial writers in Russia during the two decades before the revolutions of 1917. Collections of his stories were snapped up by the reading public, while his works for the theatre played regularly to packed houses.
However, Andreyev's fame soon faded: his extremely negative response to the Bolshevik seizure of power resulted in his writing being almost completely ignored in Soviet Russia until after the death of Stalin, while his early death from a brain haemorrhage meant that he was unable to establish himself in émigré circles in the manner of, for example, his close contemporary and Nobel Prize winner Ivan Bunin. Dr Aplin's 2015 translation of The Mother by Maxim Gorky, a personal friend of Andreyev's, was also sponsored by the Institute.
Dr Aplin is currently completing his translation of the four major plays of Anton Chekhov, three of which, Uncle Vanya, Three Sisters and The Cherry Orchard, he has been teaching to Westminster Russianists over recent years as part of the Pre-U Russian course.
Dr Aplin's new translation