Water:
In spite of the Bank Holiday weekend, there was plenty of action – and success – still for the Boat Club.
On Saturday, at Chiswick Regatta, the J15s braved the tempestuous tideway conditions just to get to the start but were rewarded two races later with a fine win over Latymer Upper in J15 Eights. Meanwhile, the Junior Quad beat Emanuel but lost to the Tideway Scullers BC in the Final, but , the J14s did not get to race unfortunately with the river temper turning to sinking conditions. The following day, conditions were calmer at Dorney for the Wallingford Regatta, and, Emma Kohlmayer continued her improvement curve with second place in the Junior 18 Singles. The 'School ' Four were an impressive 4th in Championship Junior Coxed Fours, and, both J16 Eights raced in the Championship J16 Eights event with our first eight finishing second to local boys, Eton College. Later in the day though came the peak performance as half of the J16 Eight crew (Wilder Fulford, Oliver Ellis, Caspar Griffin, Nirav Tomasi and Tobias Bernard) were mighty winners of the J16 Coxed Fours.
Whilst all this was occurring, our top four boys were on international duty in Munich with the GB Junior team Eights and Fours. There was plenty of success for them also as Angus Stevenson, Arnav Sawhney & Adam Von Bismarck all won Gold in the GB Eight on Saturday and Silver on Sunday in the Fours, whilst James Stevenson was in the Silver medal Eight on Sunday.
Cricket: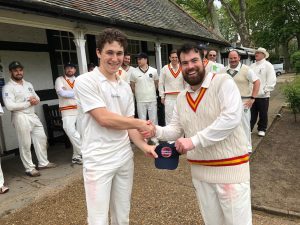 Thursday saw the annual visit of the prestigious MCC to take on the 1st Xi at Vincent Square. 'The Club' boasted an even stronger side than normal, including two players with recent first-class experience and most of the rest current Premier League players. Nevertheless, the 1st XI was undaunted as they chose to bowl first and manged to reduce the opposition to 132-5 at lunch, with Arun Ghai (2-42), Gaurav Kocher (1-51) and Lucas McConnell (2-85) putting in impressive bowling backed up by some good fielding and catching. The MCC bat deep though and after lunch they were able to progress to a challenging 230-7 when the declaration came. The School lost a wicket off the first ball and the innings was soon in tatters at 6-4 before McConnell (51) and U14, Sachin Lavender (14) repaired some of the damage with a fifty partnership for the 6th wicket. However, this was only delaying the inevitable as the opposition strolled to a 127 run victory in, what in truth, was something of a mismatch.
Elsewhere, a combined U15/14 XI was taking on Wetherby Senior in an away fixture. Batting first, Westminster posted a competitive 127-5, thanks in the main to Kai Mistry (45). However, this was not to prove enough as their hopes evaporated in the persistent rain and Wetherby ran out winners by 7 wickets.