Cricket:
It was busy and successful week for the U14As as they achieved three wins out of 3, starting with a notable scalp on Tuesday away to the 'Auld Enemy', Charterhouse. Fielding first, the bowling effort was led by captain, Amol Chauhan (4-27) whose medium-pace stifled the Charterhouse innings, limiting them to 132 all out. In reply, Westminster coasted to an impressive nine wicket victory thanks to an excellent partnership between Chauhan (47*) and Alec Brooke (47*).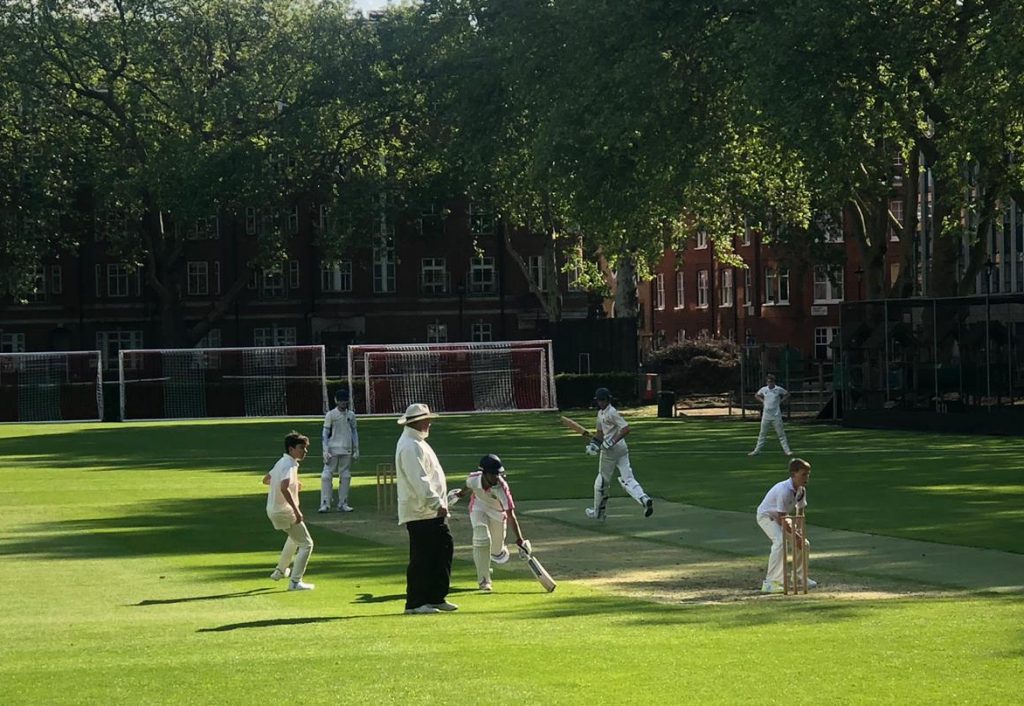 Thursday brought the first round of the ESCA U14 Cup with the Charter School the visitors to Vincent Square. The rain did its best to dismantle proceedings, but a 10 over-a-side match was made possible between the showers. The Charter could make only 51-2 from their allotted overs, and, this proved too few as Westminster eased to an eight wicket win with several overs to spare and with Sachin Lavender (27*) top-scoring.
On Saturday, the U14A match at Vincent Square was the only one of the block to take place as Highgate failed to get sides out at 1st XI and U15 level. Bowling first, Westminster did not produce their finest effort as Highgate amassed 177-1 from their 20 overs, with their opener scoring an excellent unbeaten century. In reply, the U14As were not daunted by the size of the chase, and, after Brooke (14) was dismissed early, Chauhan (75*) and Lavender (78) put together a superb 145 run partnership for the second wicket, which enabled Westminster to reach their target for the loss of only three wickets with more than three overs to spare.
Whilst the 14As were defeating Charterhouse on Tuesday, the 1st XI and U14Bs were putting up game fights against the same opposition. At Vincent Square, Charterhouse 1st XI chose to bat first and progressed serenely to 102-2 before the introduction of Alex Gardiner (3-37) prompted a collapse to 128-8. There then followed a partnership of 62 62 for the ninth wicket which was to prove crucial as Charterhouse recovered to 193 all out. In reply, Westminster were teetering at 48-4 when Lucas McConnell (48) and Angus Mackay (28) came together and took the score to 134-4, needing 60 off the remaining 12 overs. However, both were dismissed in consecutive deliveries to tilt the game in the opposition's direction as Charterhouse closed out a 40 run victory with just 3 overs to spare.
Meanwhile, in Surrey, the U14Bs were putting up a spirited fight against their Carthusian opponents. Chasing 141 to win, they were aided by a good innings from Alexei Sandmann (33) but ended up falling short by 37 runs.
Tennis: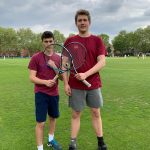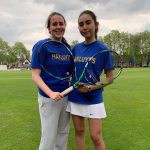 Tuesday saw the annual Senior House Tennis Competitions at Vincent Square, and, in the Boys event Rigaud's, Ashburnham, Dryden's and Busby's fought through the group stages to reach the semi-finals. Ashburnham then defeated Rigaud's (11-9) and Busby's beat Dryden's (10-5) to set up the Final. This proved an one-sided affair as Busbyites Jack Belanger and Billy Sutton-Mattocks took the tile with a crushing 6-0 victory. Meanwhile, in the Girls competition, Wren's, College, Hakluyt's & Dryden's had fought through to the semi-finals, whereupon Wren's beat College (10-4) and Hakluyt's beat Dryden's (10-2) to set up the Final where the Hakluytians, Adrianna Delorenzo & Amelia Sellors took the title with a 4-1 win.
On Thursday, four Westminster teams travelled away to Haileybury in Hertfordshire with mixed success. It was a great afternoon for the Junior sides as both the U15VI (6-3) and the U14VI (8-1) were victorious. The 15s were indebted to the first and second pairings of Eigo Matsumoto & Oscar Rasmussen (3-0) and Leo Di Nanno & Theo Mackenzie (3-0), whilst all three U14 pairings – Shinchiro Iwami & Luca van der Lubbe (3-0), Melchior Walewski & Ivan Solomakhin (3-0) and Remy Rushbrooke & Mattia Bertone (2-1) – had winning records. In the Seniors, it was Haileybury who took the honours with a 6-3 win in the 1st VI match and a 7-2 victory in the Girls VI. However, there were encouraging performances still from Leo Rozanov & Lucien Walewski (2-1) and Adrianna Delorenzo & Asha Bakhai (2-1).
Water:
The weekend saw Westminster Boat Club paying a fabulous return to its favourite Flemish city of Ghent for its Centenary Regatta event. The 1st VIII won both Junior and Men's U23 Eights on each day, whilst Emma Kohlmayer made another significant step forward by finishing third in Junior Girls Singles, second in the Under 23 event and reaching the final in Open Women's Singles. Also, five J14s raced at their first Regatta in both Singles and Doubles with Max Peel producing the best result of 6th/50 in the J14 Singles.