Climbing:
Congratulations and good luck wishes are due to Liddell's girls, Inny Yeung and Asha Bakhai who have been selected to represent England in the historic first World Schools Climbing Championships, organised by the International Schools Federation, in Aubenas, France this week.
Cricket:
Tuesday saw the block fixture against Aldenham School, and, there was a thrilling last over victory for the 1st XI at Vincent Square. Having inserted the opposition, Westminster were not at their best in the field giving away 20 extras, with Arun Ghai (3-15) the pick of the bowlers as Aldenham posted a challenging 138-7 off their allotted 20 overs. In reply, Junaid Ahmed (35) and Tarun Eapen (49*) got Westminster off to a strong start, but, a brief flurry of wickets sent the required run-rate rising and it looked as if there was too much to do as 40 were needed off the last four overs, and then 22 off the last two. Enter Angus Mackay (30*) to smash 20 off the penultimate over and then score the winning runs for a thrilling six wicket victory with three balls remaining.
Meanwhile, on the adjacent Small Square, the U14As were playing in a thriller of their own. Having profligately conceded a total of 185-5 to Aldenham in the field, Westminster gave it their very best shot with the bat. Sachin Lavender (100*) starred with the bat as he registered a fine century, with strong support from Amol Chauhan (41), although they fell 11 runs short at 174-3 in reply. Over at Aldenham, there was less success for the U15As and U14Bs as they were both beaten comfortably by their Aldenham counterparts.
Thursday was a cup day for Cricket Station with both U15As and U14As in action. At Vincent Square, the U15s made smooth progress to the next round of the London Schools Cup as they defeated Rutlish School by nine wickets. The victory was set up by bowling the opposition out for just 45 with Harry Sweeting (3-11) taking the bowling honours. Thereafter, Eapen (33*) continued his good from to ensure a convincing victory.
Meanwhile, the U14s travelled to local rivals Latymer Upper in the ESCA Cup and recorded a comfortable six wicket win. Batting first, Latymer were restricted to just 75-7 off their 20 overs, who Alexander Feldman (3-8) producing he best figures for Westminster. In reply, the U14s lost a few wickets but Lavender's knock of 31 made certain that there were no slip-ups as Westminster progressed to the semi-finals.
Saturday brought the block fixture against Chigwell with wins for 2nd XI, U15s & U14As but narrow defeats for 1st XI and U14Bs. The 1st XI were once again profligate with their bowling effort as they (crucially) gifted Chigwell 25 extras in their total of 129 (Gaurav Kocher 3-21) from 20 overs. In reply, the 1st XI showed the opposition spinners too much respect as only 29 runs came from the first 8 overs. This time they had left themselves too much to do and, despite a spirited effort, came up 10 runs short at 119-7.
On an adjacent pitch in Essex, the U15s cruised to a thumping 96 run win, with the victory set up by Kai Mistry (55*) and Arjun Kapur (55*) putting together an unbroken opening partnership of 148 off 20 overs. Chigwell never threatened in reply as Westminster's spinners, Tanishq Kumar (4-5) and Faizan Malik (3-5) cleaned up.
Just a stone's throw away, the U14As were posting an impressive 173-3 in their T20 match, with Lavender (86) starring once again with the bat, ably assisted by Alec Brooke (54). This was far too many for Chigwell to chase as they finished up 67 short at 107-9.
Meanwhile, over at Vincent Square, a below-strength 2nd XI were recording (arguably) the most impressive victory of the day as they beat their Chigwell counterparts in the last over by seven wickets. After a competent bowling and fielding effort, Westminster chased down 126 with Ross Plowman (31) top-scoring. Alas, the U14Bs couldn't match this on the Small Square as they lost by 38 runs.
Tennis:
Tuesday saw three Westminster Tennis teams travel to Eton College to take on their Etonian counterparts. Whilst it was tough afternoon for the 1st & U14VIs (both losing 1-8), there was impressive success for the U15VI who triumphed by 6-3, thanks in the main to the efforts of Oscar Rasmussen & Eigo Matsumoto (3-0) and Leo DiNanno & Titus Parker (3-0).
Water: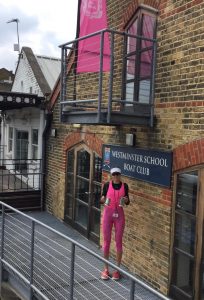 The Boat Club's preparations for the upcoming National Schools Regatta continued in earnest with plenty of encouraging performances at the Putney Town Regatta on Saturday.
Firstly, Emma Kohlmayer continued her winning ways with victories in both the Women's Open and Women's J17 Singles events, then, Daniyal Hameedi won the Boys J17 Singles semi-final but came up just short in the final. Westminster had the fastest Mixed Quad on the day but narrowly lost by a few feet to the all boy crew of Hammersmith Academy. Meanwhile, the J14 second Octo beat KCS Wimbledon to make their final where they beat Dulwich A but lost by one foot to Dulwich B. Finally, the J15 Eight added to their growing trophy collection with a fine win over Dulwich A and B in the final of J15 Eights.