Say 'cheese' for Mr Berg!
8 March 2017
Sander Berg, Head of Spanish at Westminster School, has recently translated the Dutch novella 'Cheese' by Belgian author Willem Elsschot into stylish and idiomatic English.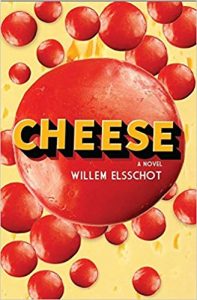 And it is one of the funniest books you will ever have come across; both funny ha-ha and funny peculiar, mingling the two in ways that can only be described as sublimely idiosyncratic.
Elshschot – the pen name of Aphonsus Josephus de Ridder – was clerk, bureaucrat and advertising executive, but viewed his professional life, outside literature, with unaffected scorn.
In 'Cheese' (1933), he tells the story of Laarmans, a nobody who aspires to be a somebody, and who hopes to move up the social and financial ladder by selling Edam cheese, in outlandish quantities. A permeating irony is that our salesman protagonist can't bear the stuff.
Early on, the reader twigs that Laarmans's vanity is only matched by his startling absence of business acumen. His patronising attitude to wife and friends, who consistently offer him sensible and intelligent advice, is as toe-curling as his snobbish self-abasement to those who he feels will advance his cause. Cheated by those he wishes to emulate, Laarman's inability to learn his lesson merely adds sauce to the comic denouement.
And yet, despite all, Laarmans remains an oddly sympathetic figure – his colleagues and family show him kindness, that is, if not deserved, also not entirely unwarranted. Sander Berg catches the psychological twists of the first person narration to perfection in a prose whose deceptive simplicities conceal the jostling of pathos and bathos that characterises so much of this minor masterpiece. Highly recommended!
Say 'cheese' for Mr Berg!