Policing, pandemic and parties discussed as UK's top officer comes to Westminster
31 January 2022
The current state of policing in London and some of the high-profile difficulties the Met has faced in recent times were all covered as Dame Cressida Dick gave a Westminster School Locke Lecture.
Speaking with Upper School pupils from Westminster, Grey Coat Hospital School and Harris Westminster Sixth Form in January, Metropolitan Police Commissioner Dick focused on how policing during Covid-19 has pushed the force to adapt in the face of ever increasing demands.
The pupil panel, led by Amia (Remove, RR), Trey (Remove, RR), Anjali (Harris Westminster) then asked questions about scrutiny and accountability in light of recent cases such as the Sarah Everard murder and the officers jailed over photos of murdered sisters, Nicole Smallman and Bibaa Henry.
Commissioner Dick assured pupils that the Met has a zero tolerance policy on inappropriate sexual conduct and misogyny, saying "these cases have led to a sweep of changes and independent reviews of the Met Police culture and the necessary steps are being taken to reinforce the appropriate behaviour, expectations of accountability and professionalism in order for the police to be rigorous and in touch with what the public needs."
Anija also asked Dame Cressida Dick about racial profiling and the use of stop and search by the Met to tackle crime. She proceeded to acknowledge that there is a high level of mistrust of the police amongst minority communities. However she defended the policy, saying: "it has suppressed crime activity in London and diverted young people from crime. During Covid there have been huge reductions in the crime rate and in the numbers victims of knife crime".
Following the lecture, Amia reflected: "The event was a great opportunity to meet with Commissioner Dick and to engage in an open discussion of Metropolitan Police policies as well as her stance on recent events in the force. She was a very engaging speaker who was sensitive to pandemic-related concerns as well as being committed to tackling systemic racism and sexism in the police force. The Commissioner was open to questions and was interested on the other hand to ask her own, being interested in what we had to say as well. I think it was also an opportunity for students to discover a type of employment or future that was previously not on their radar at all!"
Trey added: "The opportunity to meet and question Commissioner Cressida Dick is a prime example of the value of Westminster's John Locke lecture series. Her answers even to our toughest questions were incredibly astute and respectful and gave light to the Met perspective on recent events such as the murder of Sarah Everard and the Downing Street Christmas party."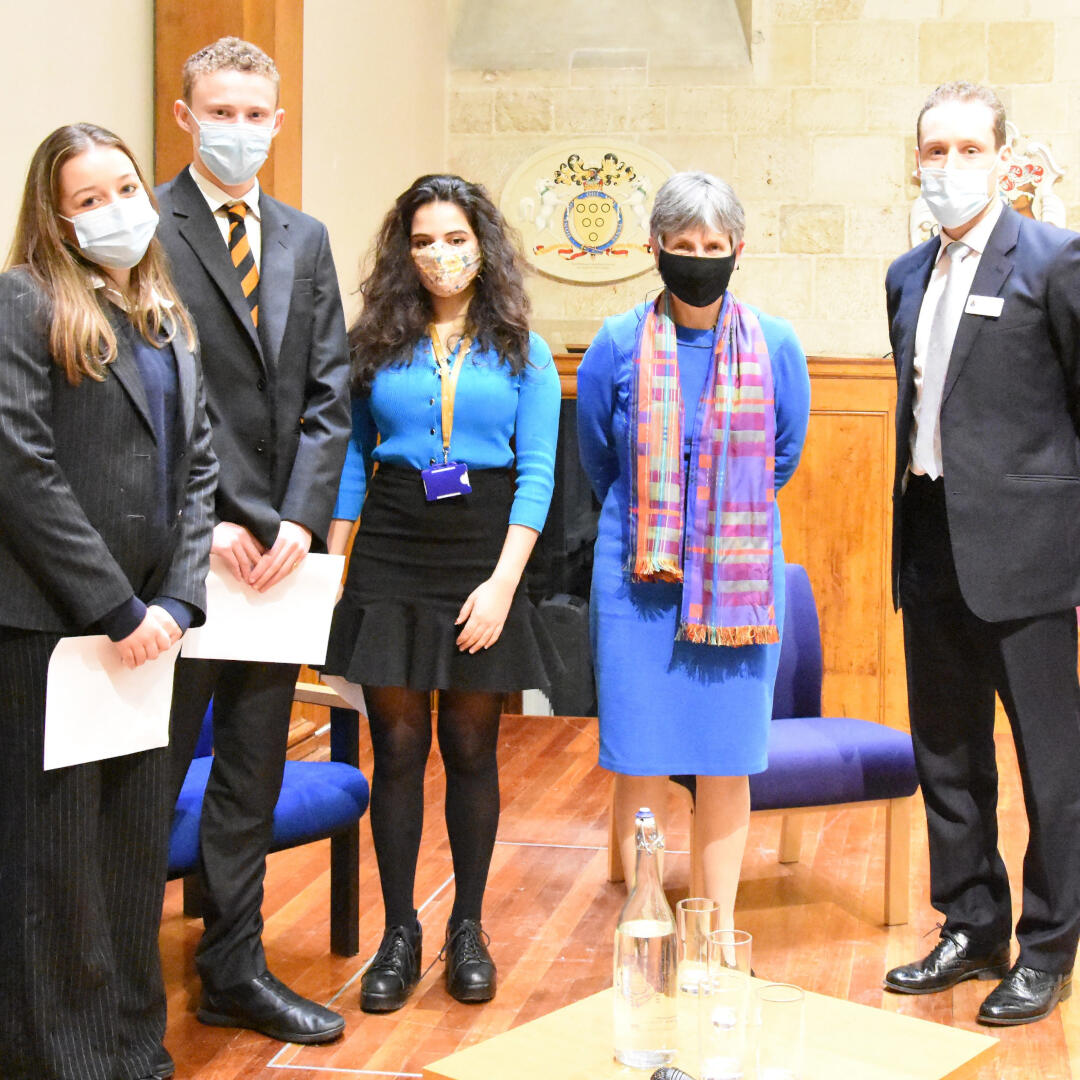 From the Left: The pupil panel, led by Amia (Remove, RR), Trey (Remove, RR), Anija (Harris Westminster)
Policing, pandemic and parties discussed as UK's top officer comes to Westminster