Westminster School celebrated an historic moment when twelve new Scholars were elected to the College of St Peter, including, for the first time, four Sixth Form girls.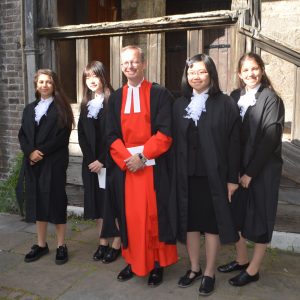 On 15 September 2017 twelve newly elected scholars presented their credentials to the Dean, the Very Reverend John Hall, as head of the Collegiate Church and in his office as Chairman of the Governing Body of Westminster School. They are now admitted to the Abbey community, which is modelled on the monastic society that preceded it; they have their own seats in quire and attend services as members of the collegiate family, including, by virtue of historical tradition, the privilege of attending coronations and being admitted to Parliament. Although the Abbey and the School became separate institutions in 1868, the ceremony reaffirmed our close links and reminded us that the School, especially College, is an integral part of the Abbey community.
When the Benedictine Abbey of Westminster, which had been in existence at least since 960, was dissolved by King Henry VIII, the Abbey church continued for ten years as a cathedral, but the King commanded that forty poor scholars should be educated at the Abbey's expense. In 1556 Queen Mary I re-founded the monastery and education continued. Three years later, Queen Elizabeth I dissolved the re-founded monastery and, in a charter of 1560 establishing the Collegiate Church of St Peter in Westminster, consolidated her father's plans for two Masters and forty Scholars:
…the youth which is growing to manhood, as tender shoots in the wood of our state, shall be liberally instructed in good books to the greater honour of the state
Elizabeth I is thus celebrated as the School's foundress. On the historic election of the first female Queen's Scholars, HRH Elizabeth II wrote to the Head Master, Patrick Derham, to send her good wishes.
Following election, the girls soon set to their duties, one of which is to guard the steps to School (the school hall) during Latin Prayers. This traditional role, that of the 'Mon. Os.' and now also that of the 'Monitrix Ostii', was to provide a security presence deterring passers-by who might be interested to explore what was happening up School. The pupil was also required to inform the Head Master of the time throughout the day.
As a source states: '[T]he day passed rather slowly with the 'Monos'. He could, indeed, play rackets by himself, or with any boy who might come out of school for a few minutes – that was all. Still, in the eyes of most boys, the 'studiorum remissio' – 'the forgiveness of lessons' was a sufficient recompense for the monotony.' Gladly, there is no need to miss lessons today!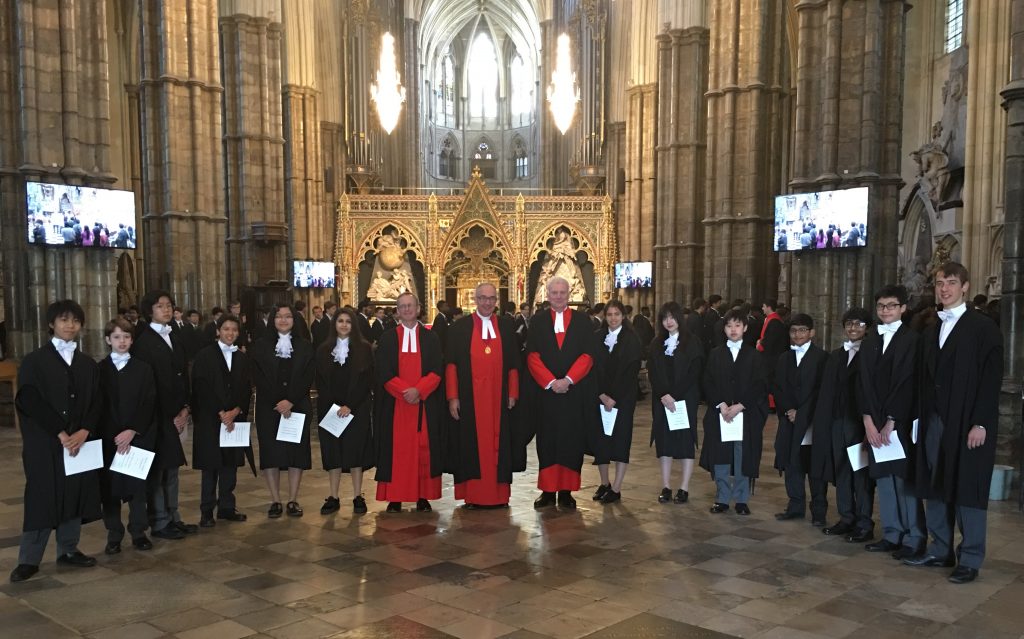 At the beginning of October we were delighted to welcome back Michael Jarvis, Captain of Queen's Scholars 1968-9, who met with Hein Mante, Captain 2017-8 to discuss how the role has changed – and remained the same – over fifty years.